FAIRway project approved for EU financing
The Agency for Inland Waterways is a project partner on FAIRway project which is co-financed under the first call of Connecting Europe Facility 2014-2020 in the area of transport. Implementation of the project began on July 1, 2015 and the planned duration is five years.
FAIRway (Coordinated Deployment of the Fairway Rehabilitation and Maintenance Master Plan) aims at the elaboration of coordinated national investment and operational plans for fairway rehabilitation and maintenance for the Danube and its navigable tributaries.
The following activities are: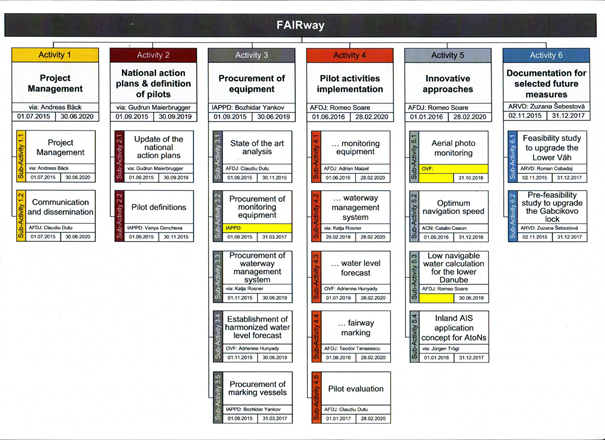 FAIRway consists of seven, strongly interlinked partners, in addition to AVP:
viadonau (via) – Austria
Ministry of transport, construction and regional development of the Slovak Republic; Waterborne Transport Development Agency (ARVD) – Slovakia
National Development Agency (NDA) – Hungary
Országos Vízügyi Főigazgatóság (OVF) – Hungary
Administratia Fluviala A Dunarii De Jos (AFDJ) – Romania
Izpalnitelna agentsia "Prouchvane i poddarzhane na reka Dunav" (EAEMDR) – Bulgaria
Compania Nationala Administratia Canalelor Navigabile (ACN) – Romania
forming a transnational implementation action for improved fairway conditions along the river Danube.
Key facts
Duration: 07/2015 - 06/2020
Budget: EUR 23.4 Mn
EU-Financing (CEF): EUR 19.6 Mn