15.06.2016
PRESS RELEASE
Vukovar, Thursday 9th June 2016
Today the first User forum of the Project FAIRway Danube was held in hotel Lav in Vukovar.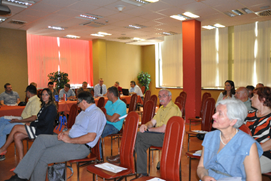 Project FAIRway Danube (July 2015 – June 2020) will significantly increase the knowledge about shallow sections of the Danube; furthermore, rehabilitation measures will be adapted and designed on the fairway routing. Project FAIRway Danube will be carried out in the cooperation of six countries including Austria, Slovakia, Hungary, Croatia, Bulgaria and Romania. It will be under the auspices of the Innovation and Networks Executive Agency (INEA) of the European Commission. The actions are co-financed by the CEF programme (Connecting Europe Facility).
A wide range of experts on water transport, users of waterway, representatives of local tourism company, representatives from waterway management authorities along the Danube as well as from the Ministry of Maritime Affairs, Transport and Infrastructure, Meteorological and Hydrological service and Vojvodina Waters participated in the User Forum.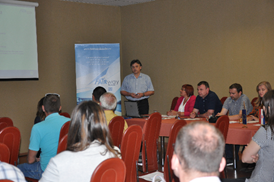 The main topic of the User Forum was the introduction of FAIRway Danube activities, project progress since the beginning of implementation and planned future results
Particular reference was made to marking vessel and surveying equipment that will be purchased within the project as well as pilot activities which will be implemented over several years as part of the project.
Representatives of the Meteorological and Hydrological service presented the activities of modernization of existing hydrological stations, establishment of new hydrological stations, acquisition and distribution of hydrological data and the establishment of operational hydrological forecasting model with assimilation of meteorological and hydrological data in real time.
The multi-beneficiary CEF project FAIRway Danube is the first implementation phase of the "Fairway Rehabilitation and Maintenance Master Plan for the Danube and its navigable tributaries", which is part of the TEN-T Corridor Work Plan for the Rhine-Danube Corridor.
Key facts
Duration: 07/2015 - 06/2020
Budget: EUR 23.4 Mn
EU-Financing (CEF): EUR 19.6 Mn
Contact
Andreas Bäck (Project Coordinator)
via donau – Österreichische Wasserstraßen-
Gesellschaft mbH Donau-City-Straße 1, A-1220 Vienna
Tel: +43 (0) 50 4321-1609
Email: andreas.baeck@viadonau.org
Claudiu Dutu (Project Dissemination)
AFDJ - River Administration of the Lower Danube
Galati, 32 Portului Street, Romania
Tel: +40 (36) 460016
Email: claudiu.dutu@afdj.ro
Lidija Hubalek (National Coordinator)
AVP – Agency for Inland Waterways
Parobrodarska 5, 32000 Vukovar, Croatia
Tel: +385 (32) 445 051
Email: lidija.hubalek@vodniputovi.hr